Would Blake Bortles Fit with the Browns?
Tuck and O'Neill talked to Glenn Moore of ?Cleveland.com about if the Browns would take Blake Bortles if avaliable at the NFL Draft?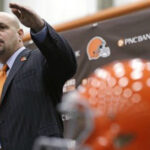 Why you should listen:?Tuck and O'Neill talked to Glenn More of Cleveland.com about his interview he did with UCF Head Football Coach George O'Leary. Moore talked about Blake Bortles and if Bortles would be the right pick if avaliable at the 4th pick in the NFL Draft. Moore discussed the state of the Cleveland Browns and the struggles they have had recently with the Quarterback position and much more.
?Glenn Moore on Tuck and O'Neill ?March 26, 2014?:
The Tuck and O'Neill Show comes to you live Monday through Friday 3pm-7pm from the Sports Talk Florida Studios
Talk with us during the show: 1080 Studio Line : 407-482-3776
toll free : 877-380-1080
Chat with us online : SportstalkFlorida - @SportsTalkFla
Sports Talk 1080 The Team - @1080TheTeam
Mike Tuck - @MikeTuck1080