Video: MVP Interrupted By Man Calling For 9/11 Probe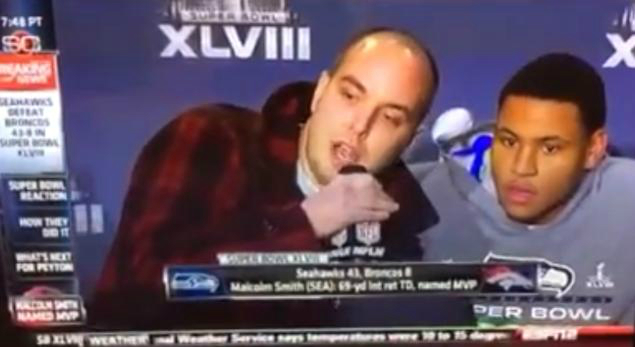 EAST RUTHERFORD, N.J. (AP) — A man jumped onto the podium during Super Bowl MVP Malcolm Smith's postgame news conference, grabbed the microphone and said the Sept. 11 terrorist attacks were "perpetrated by people with your own government."
Smith sat dumbfounded and surprised when the man suddenly appeared on his right side.
The man said: "Investigate 9/11. 9/11 was perpetrated by people with your own government." He quickly walked away, and security converged on him.
Here's a video of Smith getting Interrupted. It was recorded by someone recording their tv and put on YouTube.
It wasn't immediately clear if he was taken into custody.
Smith then continued taking questions from the media.
Source: Associated Press