Super Bowl Sunday TV Day Planner - ESPN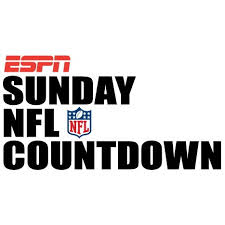 A special four-hour edition of ESPNsSunday NFL Countdownwill preview Super Bowl XLVIII from two locations Herald Square in downtown Manhattan and MetLife Stadium in East Rutherford, N.J., beginning at 10 a.m. ET on Sunday.
HostChris Berman, covering his 32nd Super Bowl, will be joined by analystsCris Carter,Mike Ditka,Tom JacksonandKeyshawn Johnsonon the main set at Herald Square, along with NFL InsidersChris MortensenandAdam Schefter.Suzy KolberandMonday Night CountdownanalystsTrent Dilfer,Ray LewisandSteve Youngwill appear from MetLife Stadium, site of the game. ReportersSal Paolantonio(covering the Broncos) andEd Werder(Seahawks) will also provide live team updates throughout the program.
ESPNs roster ofCountdownanalysts with a combined nine Super Bowl rings in 14 appearances in the NFLs biggest game will preview the Denver Broncos vs. Seattle Seahawks game in Super Bowl XLVIII, analyzing the players, teams, key matchups and more.
PlannedCountdownfeatures, in order of timing by quarter-hour (all times subject to change):
Opening Tease: A Super Bowl in New York-New Jersey (10 a.m. and 1 p.m. ET)
American film, stage and voice actorWillem Dafoenarrates an essay he wrote about the Super Bowl in New York-New Jersey that captures the events departure from the norm to embrace new challenges and opportunities.
Russell Wilsons Houdini Plays (11 a.m.)
In a sit-down withCountdownsChris Berman, second-year Seahawks quarterback Russell Wilson walks through some of his most memorable plays where he escaped from pressure with Houdini-like moves to keep plays alive.
Capturing The Super Bowl Moment (11:15 a.m.)
From Bart Starrs Super Bowl sneak in 1967, through Lynn Swanns 53-yard acrobatic grab in Super Bowl X, to David Tyrees Helmet Catch in Super Bowl XLII, past Super Bowl photographers discuss the skill, positioning and how they labored to capture the indelible still frames that have come to define Americas biggest sporting event through the years.
Frank Caliendos 30 for 30 (11:45 a.m.)
ComedianFrank Caliendopresents a mockumentary on how Seahawks cornerback Richard Sherman used his new-found infamy to make his way to the White House. Caliendos mockumentary includes cameos impersonating former Presidents George W. Bush and Bill Clinton, Chiefs head coach Andy Reid, NFL Insider Adam Schefter, and, for the first time, television impersonations of Patriots head coach Bill Belichick and ESPNsRon Jaworski.
John Elway Conversation (12 p.m.)
At the end of John Elways first Super Bowl an agonizing 20-39 loss to the Giants on January 25, 1987, veteran Broncos linebackerTom Jackson, then a teammate of Elway, stood next to his young quarterback and cautioned him to always remember his feelings from the loss. Though Super Bowl XXI was Jacksons last game as a player, his advice remained with Elway through two Super Bowl victories in five attempts. Twenty-seven years later, the former teammates reunite as the Broncos executive vice president of football operations sits for a one-on-one conversation withCountdowns most-tenured analyst. Elway discusses the long process of turning the team around and relives some of his own experiences as the Broncos quarterback.
Draft Day(12:20 p.m.)
Actors Kevin Costner, Jennifer Garner and Denis Leary, stars of the upcoming NFL Draft-themed filmDraft Day(released April 11), will join Berman and theCountdownanalysts live at Herald Square.
Pete Carroll and Jake Olson (12:30 p.m.)
Since his days as coach of the USC Trojans, Seattle Seahawks head coach Pete Carroll has had a relationship with a young fan named Jake Olson, who lost his vision due to cancer. During the Seahawks Divisional Playoff game against the Saints, Olson joined Carroll on the sidelines.Countdownprofiles a relationship that has grown over the years and has followed Carroll from college into professional football.
Peyton Manning Conversation with Chris Mortensen (1 p.m.)
ESPN senior NFL analystChris Mortensensits for a one-on-one conversation with Broncos quarterback Peyton Manning, who discusses his NFL future and how being a parent has made him more sentimental.
Finding Your Family (1:40 p.m.)
At the end of every Super Bowl, players on the winning team fight through confetti and hoards of media and other officials in search of their loved ones in the stands. Through the voices of Super Bowl winners such as John Elway, Tom Brady, Emmitt Smith, Jim Burt, Jason Pierre Paul, Dick Vermeil and others, reporterGreg GarberandCountdownrecount stories of players and coaches, how they celebrated winning the Lombardi Trophy and how they found their families.