- - http://www.sportstalkflorida.com -
Sharks Acquire Chad Rau
Posted By Sports Talk Florida On February 5, 2014 @ 3:05 PM In News and Rumors,NHL | No Comments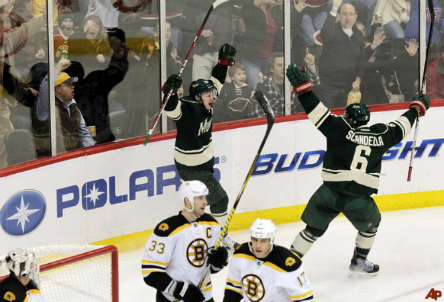 [1]
SAN JOSE, Calif. (AP) — The San Jose Sharks have acquired forward Chad Rau from the Minnesota Wild for forward Curt Gogol in a trade of minor leaguers.
San Jose general manager Doug Wilson announced the move Wednesday, ahead of the team's home game against the Dallas Stars. The Sharks had lost four of their last five.
Rau has one goal and six assists in 33 games this season for the AHL's Iowa Wild. He has two goals in nine career NHL games for Minnesota. He will report to the Worcester affiliate.
Gogol recorded four points and 149 penalty minutes in 40 games with Worcester.
Worcester also traded right wing Riley Brace to the Iowa Wild.
Source: Associated Press
Sharks Acquire Chad Rau
by
Sports Talk Florida
---
Article printed from : http://www.sportstalkflorida.com
URL to article: http://www.sportstalkflorida.com/sharks-acquire-chad-rau/
URLs in this post:
[1] Image: http://www.sportstalkflorida.com/wp-content/uploads/2014/02/wild_Chad_Rau_2014.jpg
Click here to print.
Copyright © 2011 ESPN Florida. All rights reserved.