- - http://www.sportstalkflorida.com -
Russians Protesting Disallowed Goal In USA Game
Posted By Sports Talk Florida On February 17, 2014 @ 2:51 PM In News and Rumors,NHL | No Comments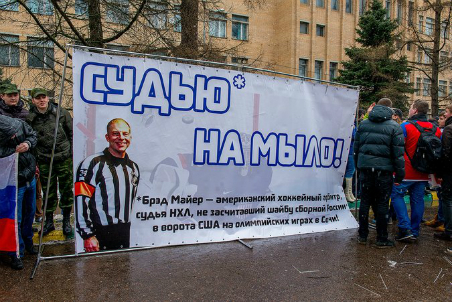 [1]
It was the biggest demonstration so far concerning the Sochi Olympics, and it had nothing to do with gay rights, environmental damage or corruption.
Dozens of Russian fans gathered Monday outside the United States embassy in Moscow, some brandishing hockey sticks, to protest a disallowed goal scored by the Russian team in Saturday's Olympic hockey match against the United States in Sochi, a decision that they felt cost them the game against their Cold War rivals.
A crowd of mainly students erected a large banner in front of the embassy reading, "Turn the referee into soap!", a common Russian chant at sporting events, implying the referee is fit only to have his bones and body fat boiled down for soap.
For more on this story visit: Patrick Reevel, New York Times [2]
Russians Protesting Disallowed Goal In USA Game
by
Sports Talk Florida
---
Article printed from : http://www.sportstalkflorida.com
URL to article: http://www.sportstalkflorida.com/russians-protesting-disallowed-goal-in-usa-game/
URLs in this post:
[1] Image: http://www.sportstalkflorida.com/wp-content/uploads/2014/02/Russian-Banner.jpg
[2] Patrick Reevel, New York Times: http://www.nytimes.com/2014/02/18/sports/olympics/russians-protest-disallowed-hockey-goal-at-us-embassy-in-moscow.html?hp
Click here to print.
Copyright © 2011 ESPN Florida. All rights reserved.