Rays Open Spring Training With Optimism & Great Expectations
Opening Of Spring Training Breeds Optimism For 2014 Season
There were a few ?common themes swirling around the Tampa Bay Rays training complex at Port Charlotte as pitchers and catcher reported to kick of the 2014 season. There was a sense of familiarity, excitement of having David Price?return, and ?great expectations.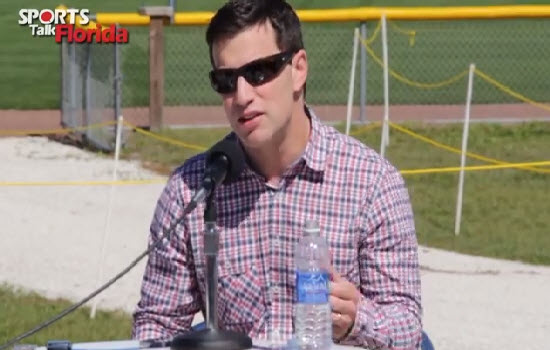 Alex Cobb (VIDEO LINK) said he was happy that the Rays did not trade David Price because he felt they were set in all positions. "We feel that we have the same core group as last year, a couple of key additions here and there and strengthened the depth in key positions," Cobb said. "We're pretty happy that it looks like the team that looks like its starting spring training will be the team that starts opening day."
Cobb also said one of the problems last year is that when the team got to spring training it was kind of cliquey.
"Nobody really meshed well together, nobody knew each other, people knew each other from past teams but as a group as a whole of our team nobody really knew each other too well. You can kind of see that attitude shift a little bit a quarter way, half way through the season last year. Guys really starting to hang out and mess with each other in the clubhouse just feeling comfortable. We get to skip that point his year and got straight to showing up at the field with your friends and playing baseball. It's exciting to think you get to just go hang out with your buddies and play baseball."
Chris Archer said that he was there to maximize his potential and as a whole our teams potential is pretty special (VIDEO LINK). As for the return of David Price
"It goes further than on a baseball level, but being able to be beside him and just having him there to look up to in more aspects than just baseball is special for me because since 2008 when I met him I felt like we had a connection. His background is similar to mine. He was the first biracial player that I personally ever met that made it to the big leagues and just paved this whole path created his own foundation. Just a genuine person."
David Price was as happy as anyone to return to the Rays for the 2014 season. "There's not a whole lot of people that get pumped up to come here [Port Charlotte]," Price said. "But I was definitely very excited to come to Port Charlotte." ?As for whether being in Port Charlotte has relaxed him and allow him to focus he says (VIDEO LINK):
"Once I get into the season and stuff the it will kind of go away, but up until opening day anything can happen."
Manger Joe Maddon emphasized that winning the division is very important to avoid the tiring travel that the team encountered last season when travelling from Toronto, to Texas to Cleveland before finally getting to play the Red Sox (VIDEO LINK).
"Really the drive needs to be not to just get to the playoffs but to get and win your division to avoid that first moment because that is such a flip of the coin to win or lose that game. Beyond that we really have to start creating the mindset not just to get to the playoffs but to take it deeper. Of course, your goal is to always win the world series. Play the last game of the year and win it to eat last - I want to eat last this year."
Keeping his team together and adding depth at several positions took a financial commitment from owner Stu Sternberg and Executive Vice President of Baseball Operations Andrew Friedman. Thanks in large part to a more lucrative National television contract the Rays will enter the 2014 season with the largest payroll in team history. Regardless of what the payroll number is the Rays the culture since 2008 has been to come to camp expecting to win. (VIDEO LINK)
"I think that's something that guys don't lock in all that much [payroll], they focus much more on who's in the clubhouse, the talent in there. Ever since 08 I think we've all come to camp with an expectation to win. I think that part of the culture change has happened here."