Rams Select Michael Sam in the 7th Round of the NFL Draft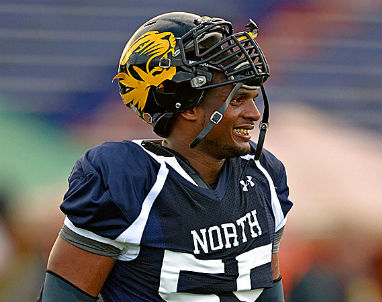 In the seventh round of the NFL Draft, theSt. Louis Rams selected Missouri defensive end Michael Sam,making himthe first openly gay player to be draftedin the NFL.He was the 249th of 256 draft selections.
Thank you to the St. Louis Rams and the whole city of St. Louis. I'm using every ounce of this to achieve greatness!! pic.twitter.com/QESdOJVzsw Michael Sam (@MikeSamFootball) May 10, 2014
It was an emotional moment for Sam, the SEC Defensive Player of the Year, who came out publicly in February.
He was shown on live TV, getting the phone call from Rams head coach Jeff Fisher. He broke down in tears before sharing a kiss with his partner.
Fisher appeared on NFL Network shortly after.
I dont have any concern whatsoever. We drafted a good football player, and Im excited to get him on the practice field and get him going."