NHL Diary: Feb 4, 2014 - Olympic "Preunion" At The Joe
NHL MORNING SKATE FEB. 4, 2014
Welcome to the NHL Morning Skate, a daily collection of the latest news and notes from around the League.
OLYMPIC "PREUNION" AT THE JOE
Nineteen players, management and support staff from the Red Wings and Canucks who will be representing their native countries at the 2014 Olympic Winter Games in Sochi -- including more than a third of the entire Swedish roster -- met at center ice for a pre-game ceremony at Joe Louis Arena Monday. The fifth Red Wing from the right is forwardGustav Nyquist, named yesterday to the Swedish team to replace injured Red Wings teammateJohan Franzen.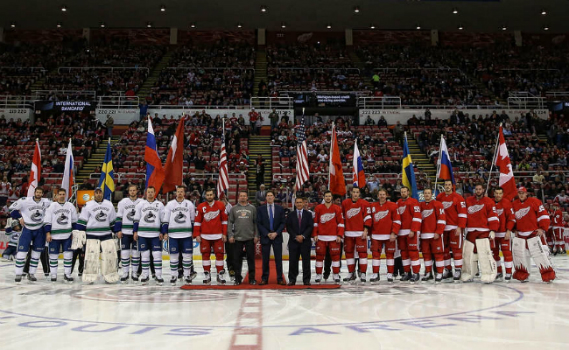 Photo, from left to right: Canucks FRyan Kesler(USA), Canucks DDan Hamhuis(Canada), Canucks GRoberto Luongo(Canada), Canucks DAlexander Edler(Sweden), Canucks FHenrik Sedin(Sweden), Canucks FDaniel Sedin(Sweden), Red Wings FHenrik Zetterberg(Sweden), Red Wings masseurAinars Treiguts(USA), Red Wings head coachMike Babcock(Canada), Red Wings GMKen Holland(Canada), Red Wings FTomas Tatar(Slovakia), Red Wings FTomas Jurco(Slovakia), Red Wings FDaniel Alfredsson(Sweden), Red Wings DNiklas Kronwall(Sweden), Red Wings FGustav Nyquist(Sweden), Red Wings DJonathan Ericsson(Sweden), Red Wings GJonas Gustavsson(Sweden), Red Wings FPavel Datsyuk(Russia) and Red Wings GJimmy Howard(USA).
MONDAY'S RESULTS
Edmonton 3, Buffalo 2
Pittsburgh 2, Ottawa 1 (OT)
Detroit 2, Vancouver 0
Colorado 2, New Jersey 1 (OT)
Columbus 4, Anaheim 2
Chicago 5, Los Angeles 3
Philadelphia 5, San Jose 2
RARE CALIFORNIA SOUVENIR: ROAD POINTS
The three California-based clubs, who boasted a cumulative home record of 58-15-8, suffered regulation losses on home ice Monday night:
* Flyers forwardsMatt Read,Michael RafflandClaude Girouxtallied three goals in the opening four minutes of the third period as Philadelphia overcame a 2-1 deficit to win 5-2 in San Jose. The win was the teams first in San Jose since Nov. 5, 1999. According to the Elias Sports Bureau, the Flyers set a franchise record by winning their 10th game this season when trailing at some point in the third period.
*Patrick Kanerecorded a game-high three points (2-1--3) as the Blackhawks ended a 1-2-3 slide with a 5-3 victory at Los Angeles in a battle between the past two Stanley Cup champions. Chicago improved to 13-0-6 against the Pacific Division this is season. The game marked the 6,000th in Blackhawks history.
* Columbus used a pair of third-period goals fromNick Folignoand 34 saves from netminderSergei Bobrovskyto hand Anaheim its fourth loss in its past six home games (2-4-0) after beginning the season with a 20-0-2 mark at Honda Center. The Blue Jackets won for the seventh time in their past 10 visits to Anaheim (7-3-0), dating to a 2-0 win on Dec. 31, 2008.
FLEURY HITS 30 WITH OT WIN
Marc-Andre Fleurymade 24 saves for his League-leading 30th win of the season, backstopping Pittsburgh to a 2-1 overtime triumph over Ottawa.James Neals goal at 1:55 of overtime came on Pittsburghs 48th shot of the game, matching a season high established on Nov. 27 versus Toronto (48 shots in a 6-5 shootout win).
* Fleury reached the 30-win mark for the sixth time in 10 NHL seasons. According to the Elias Sports Bureau, Fleury is the fastest goalie in franchise history to win 30 games in a season, doing so in Pittsburgh's 56th game.
* The Penguins improved to 16-1-0 in their past 17 games at CONSOL Energy Center. They lead the League with 23 home-ice wins this season.
* Neals goal was his third career overtime winner and second this season. He is one overtime goal shy of tying Pittsburghs single-season record, shared by five players, and most recently accomplished by former PenguinColby Armstrong(2006-07) and captainSidney Crosby(2005-06).
AVALANCHE RALLY IN NEWARK
With Colorado netminderJean-Sebastien Giguereoff for an extra skater, forwardPA Parenteautied the game at one with 1:47 left in regulation, setting the stage forRyan OReillys overtime goal 28 seconds into the extra frame.
* The Avalanche, who hold a 29-0-2 record when leading after two periods, rallied in the third frame to win for the third time this season (3-12-2).
* Colorado won their fourth consecutive game, improving to 9-2-0 in their past 11 games and 6-1-0 in their past seven road contests.
* CaptainGabriel Landeskog(2-6--8) extended his point streak to six games with his assist on Parenteaus goal whileNathan MacKinnon(3-5--8) andTyson Barrie(2-4--6) stretched their career-high streaks to five games. OReilly (2-3--5) andMatt Duchene(0-5--5) each have points in four straight contests.
OIL STRIKE
Buffalo fired a season-high 44 shots on the Edmonton net butIlya Bryzgalovs 42 saves andMatt Hendricks shorthanded goal 57 seconds into the third period lifted the Oilers to their first win over the Sabres since Oct. 16, 2003 and their first win in Buffalo since Mar. 4, 2002.
* Hendricks goal was his fourth of the season, second with the Oilers, and his first shorthanded tally since Dec. 21, 2009 with Colorado (also a game-winner).
* Bryzgalov made 40-plus saves for the second time this season (also 41 saves Dec. 31 vs. Phoenix), improving his record to 16-4-9 in such games (Elias).
* Edmonton won for the fourth time in the past five games, matching their best five-game stretch this season.
SHOOTING OUT THE LIGHTS
* Sabres defensemanChristian Ehrhoffrecorded 10 of Buffalos 44 shots, matching a career-high established on Mar. 11, 2006 with San Jose (his 10th shot was the overtime winner). According to the Elias Sports Bureau, Ehrhoff is the first Sabres defenseman with at least 10 shots in a game sinceAlexei Zhitnikon Nov. 10, 1997.
LOOSE PUCKS
Senators goaltenderCraig Andersonmade at least 40 saves for the third time this season, stopping 46 of 48 shots in Pittsburgh. Andersons 46 stops were his most in a regular-season game since a 47-save shutout on Feb. 19, 2011 in Toronto. . . Philadelphia earned a regulation win against San Jose for the first time in their past 14 meetings. . . Coming off his first-career hat trick, Detroit'sGustav Nyquistextended his point streak to three games (4-2--6) with an assist onJustin Abdelkaders winning goal. . . Avalanche rookieNathan MacKinnonplayed his first game in New Jersey since his name was the first called in the 2013 NHL Draft at Prudential Center in June. . . GoaltenderSergei Bobrovskyimproved to 12-2-0 in his past 14 starts while the Blue Jackets moved to 8-0-0 whenNathan Hortonrecords a point. . .Jonas Gustavsson(eight saves) andJimmy Howard(16 saves) backstopped the Red Wings to the teams first combined shutout since Oct. 27, 2001 (Dominik HasekandManny Legace).
SNEAK PEEK AT TUESDAY'S ACTION
All Times Eastern
Vancouver @ Boston, 7:00 p.m., SNET-P, NESN
Colorado @ NY Rangers, 7:00 p.m., ALT, MSG
Winnipeg @ Carolina, 7:00 p.m., TSN-JETS, FS-CR
Calgary @ Montreal, 7:30 p.m., RDS, SNET-W, TSN-HABS
Toronto @ Florida, 7:30 p.m., SNET-O, FS-F
NY Islanders @ Washington, 7:30 p.m., TSN2, NBCSN
Ottawa @ St. Louis, 8:00 p.m., SNET-E, TVA, FS-MW
Tampa Bay @ Minnesota, 8:00 p.m., SUN, FS-N
Dallas @ Phoenix, 9:00 p.m., FS-SW, FS-A PLUS
MAURICE LEADS JETS INTO CAROLINA
The Jets and Hurricanes, both on a roll and in the heart of the wide-open playoff races in their respective Conferences, meet for the first time this season. Jets coachPaul Mauricehas led Winnipeg to an 8-2-0 record since taking over on Jan. 12. Maurice also is the winningest coach in Hurricanes history, racking up 384 wins behind the Carolina bench from 1997-04 and again from 2008-12. The Hurricanes, who beat the St. Louis Blues 3-1 on Friday, look to build on their 10-win January, the first time since 2009 they have won 10 games in a month.
Source: NHL Media