NHL Diary: Feb 1, 2014 - Rangers Complete Outdoor/Indoor Sweep
NHL MORNING SKATE FEB. 1, 2014
Welcome to the NHL Morning Skate, a daily collection of the latest news and notes from around the League.
FRIDAYS RESULTS
NY Rangers 4, NY Islanders 1
Carolina 3, St. Louis 1
Detroit 4, Washington 3 (SO)
Nashville 3, New Jersey 2 (OT)
Winnipeg 4, Vancouver 3
RANGERS COMPLETE OUTDOOR/INDOOR SWEEP
Two days after their outdoor contest at Yankee Stadium, the Rangers and Islanders met again. The teams went into the second intermission tied, but third period goals fromDerick BrassardandBrad Richards,2:45 apart, sealed a third consecutive victory for the Rangers. The Rangers are 10-3-1 in their last 14 games, and sit in second place in the Metropolitan division with 63 points (30-23-3).
*Henrik Lundqvistmade 38 saves to improve to 8-2-0 in his last 10 games, and 8-2-1 when facing more than 30 shots this season. He has allowed two or fewer goals in nine of his last ten contests overall. Lundqvists win was his 20th of the campaign becoming the only goalie with an active streak of nine consecutive 20-win seasons.
*Brian Boyleopened the games scoring and has a point in three straight games for the first time since April 3-7, 2012 (1-23).
LATE-GAME HEROICS
David Legwandfired home a game-tying goal with 10.8 seconds remaining in regulation, andShea Weberscored his second goal of the night 1:29 into the extra frame to give Nashville back-to-back victories. The Predators are 4-1-1 in their last six games.
* After his first two-goal game of the season, Weber now leads all defensemen with 15 goals and sits fourth in points among defensemen (15-23--38). He has 8-17--25 in his last 25 games. Webers overtime goal was his third game-winner of the season, and the Predators are 11-1-2 when he scores.
LATE-GAME HEROICS II
In the Washington-Detroit match-up, a one-timer fromAlex Ovechkinwith only seven seconds remaining in regulation sent the game to extra time, but it was Detroit forward,Patrick Eaves,who ended the Capitals comeback attempt in the shootout. It was the third time this season that Ovechkin had scored a tying goal in the final minute of the third period -- according to the Elias Sports Bureau he is the first player to score three such goals in one season sinceBrian Giontadid so 2006-07 for the Devils.
*Ovechkin leads the League scoring race by 10 goals with 39 goals (39-18--57) in 51 games this season -- he has 5-49 in his last five games.
CRUISING ALTITUDE
The Jets improved to 7-2-0 under head coachPaul Mauriceby fending off multiple Canucks comebacks beforeDevin Setoguchiscored the winner with 2:56 remaining in the third period. AfterZach Bogosianopened the scoring 5:02 into the first, Setoguchi opened up a 2-0 lead just 1:05 later. Setoguchi broke a seven-game point scoring drought in what was his first multi-goal game since Oct. 4; he now has 10 goals on the season (10-13--23) giving the Jets a League-leading nine different players with ten or more goals.
*Mark Scheifele(0-11) earned his fourth point in as many games to retake sole possession of third place in rookie scoring with 11-2132.
The Winnipeg Jets started a new tradition, following their win, for their Player of the Game: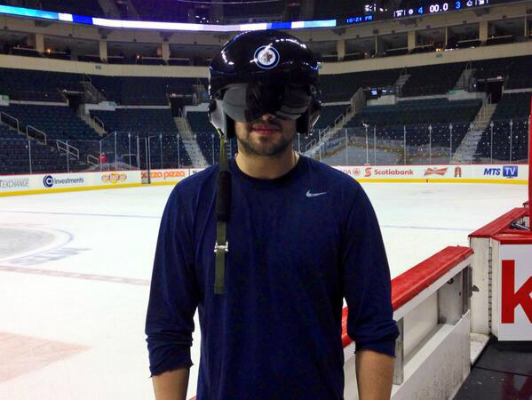 Photo Courtesy of @NHLJets
PARISE NAMED CAPTAIN OF TEAM USA
Minnesota Wild forwardZach Parisewas named captain of the United States team for the 2014 Olympics. Parise helped the U.S. win the silver medal in 2010, tying for the team lead with eight points (4-4--8). Minnesota Wild defensemanRyan Suterand Los Angeles Kings forwardDustin Brownwere named alternate captains.
LOOSE PUCKS
Detroit coachMike Babcockearned his 400th win with DetroitKyle Okpososcored the Islanders lone goal and has 7-815 in his last 11 games and 16-1632 in his last 25 contestsAnton Khudobinmade 27 saves to improve to 5-1-0 in his last six starts and 10-4-0 for the month of January Nashville goaltenderCarter Huttonimproved to 6-1-0 in his last seven games with a 24-save victoryJaromir Jagrtallied 1-12 for his fourth multi-point performance in his last five games (1-78)Ryan Keslertallied 1-23 in his first three-point game since December 10, 2011The Edmonton Oilers acquired defensemanMark Fraserfrom the Toronto Maple Leafs in exchange for prospectsCameron Abneyand the rights to restricted free agentTeemu Hartikainen.
A SNEAK PEAK AT SATURDAYS ACTION
All Times Eastern
Edmonton @ Boston, 1:00 p.m., SNET-W, NESN
Tampa Bay @ Montreal, 1:00 p.m., CBC, RDS, SUN
Buffalo @ Colorado, 3:00 p.m., MSG-B, BELL TV, ALT
Philadelphia @ Los Angeles, 4:00 p.m., NHLN-US, CSN-PH, FS-W
Ottawa @ Toronto, 7:00 p.m., CBC, RDS, NHLN-US
Florida @ Columbus, 8:00 p.m., FS-F, FS-O
Nashville @ St. Louis, 8:00 p.m., FS-TN, FS-MW
Pittsburgh @ Phoenix, 8:00 p.m., ROOT, FS-A PLUS
Minnesota @ Calgary, 10:00 p.m., CBC, FS-N, FS-WI
Dallas @ Anaheim, 10:00 p.m., TXA 21, FS-W
Chicago @ San Jose, 10:30 p.m., NHLN-US, CSN-CH, CSN-CA
REGEHR TO PLAY 1000TH GAME
The Los Angeles Kings will honor defensemanRobyn Regehrprior to the game today -- he is set to play in his 1000th game against the Flyers. The 19th pick in the 1998 NHL Draft (Colorado), Regehr will reach the milestone at 33 years old, in 14 seasons with the Kings, Buffalo Sabres and Calgary Flames.
The game will mark the first time the Flyers and Kings have played in Los Angeles since Dec. 30, 2010 and the first time Kings forwardJeff Carterwill face his former team since he was traded by the Flyers on June 23, 2011.
Source: NHL Media