The more things change, the more things remain the same.
What other league gives you playoff teams one year and the next it's Minnesota (1-7), Atlanta (2-6), Houston (2-6), Washington (3-5), and Super Bowl champ Baltimore (3-5).
3 last place teams are currently in first place.  Kansas City, Detroit, and New Orleans.
We have an unbeaten team most people don't believe in and 2 winless teams that nobody believes in.
We've had debates about concussions, illegal hits, bullying, and sportsmanship.  And that is just the Tampa Bay Buccaneers.  Boom!  I'll be here all week.
We've surprisingly talked more about Brett Favre this year than Tim Tebow and Manti Te'o combined.
We've had two coaches hospitalized within days of each other for health reasons.
We haven't had a coach fired yet though, that has to be considered an upset.
Peyton Manning is on pace to throw for just under 6000 yards.  He'd shatter the record.
Drew Brees and Matt Stafford are also on pace to to throw for 5000 yards.  13 guys are on pace to throw for 4000 yards, and Geno Smith and Ryan Tannehill are just under the pace.
Oh, and Peyton Manning has 29 TD, on pace for 58 touchdowns, also destroying the record of 50.
Only 12 guys are on pace to rush for 1000 yards.  That would be the lowest total in the last 10 years.
Terrelle Pryor is on pace for just under 1000 yards!
32 receivers are on pace to catch 1000 yards.  You think it's a passing league?
Jimmy Graham is on pace to break the record for yards receiving by a tight end in a season set by Rob Gronkowski with 1327 two seasons ago.
Calvin Johnson is attempting to lead the NFL in receiving yards for a 3rd straight year, and currently sits 3rd, but also missed a game this year (while the two guys in front of him haven't had bye weeks yet), so he lead in yards per game comfortably and in position for a 3-peat.
49 quarterbacks have seen extensive time in a game this season!  Many benched, many injured.  The Eagles, Vikings, Browns, and Texans have already burned through 3 guys each.
Maybe that helps explain why there have been 38 pick-sixes already this year!!!  Matt Schaub isn't throwing all of them.
Even teams that have quarterbacks will consider drafting one early this coming draft because you can't ever have too many on the roster.
4 kickers are perfect on field goals this year, and 11 are hitting more than 90%.
Only 3 extra points have been missed all season.
Here is an idea, allow 2pt conversions to take place the 1-yard line to tempt more teams to pass on the sure-fire point or move the extra point back 20 yards.  Also, let's force NFL teams to either go for the first down or the field goal if they are inside the opponents 40 yard line.  Kickers are more capable than ever, and it takes punts out of the game, not a bad thing.
MVP: Peyton Manning, duh. You weren't thinking I was going to say Nick Foles, did you?
DPOY: Richard Sherman is probably the popular pick.  Nothing wrong with being popular.
ROY: There is no obvious choice, which shouldn't surprise us after a less than stellar draft. I suppose Eddie Lacy is picking up steam and Kiko Alonso (Bills), Sheldon Richardson (Jets), and Eric Reid (49ers) have all been terrific on defense.
COY: Andy Reid.  And this kid.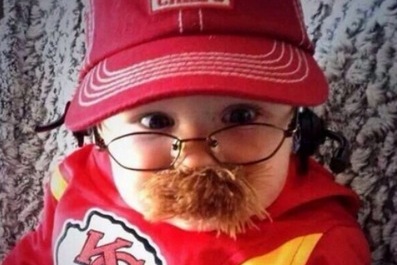 Let's hope the second half of the year matches the first half.