NFL Network's Charles Davis talks NFL Draft
Jerry O'Neill and Eric Lopez talk to NFL Network's Charles Davis about the NFL Draft.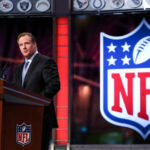 Why You Should Listen : Charles Davis breaks down the 2014 NFL Draft. Where does he see Johnny Manziel and Blake Bortles landing in the draft? Davis talks about how he feels about both Manziel and Bortles as well as how deep this draft is. What position is think in this draft. Davis also talks about how much of speculation and rumors right now going on with the Draft is real and how much of it is just bluffing going on with NFL Teams? Davis talks about this and much more.
Charles Davis on Tuck and O'Neill May 2, 2014 :
Tuck and O'Neill Show comes to you live Monday through Friday 3pm-7pm from the Sports Talk Florida Studios
Talk with us during the show: 1080 Studio Line : 407-482-3776
toll free : 877-380-1080
Chat with us online : SportstalkFlorida - @SportsTalkFla
Sports Talk 1080 The Team - @1080TheTeam
Mike Tuck - @MikeTuck1080