A U.S. goalie has been forced to remove the words from the U.S. Constitution off of her hockey mask. Jessie Vetter's  mask had to be changed to conform to International Olympic Committee standards.
It is in regard to Rule 50 of the Olympic Charter, which states:
No form of publicity or propaganda, commercial or otherwise, may appear on persons, on sportswear, accessories or, more generally, on any article of clothing or equipment whatsoever worn or used by the athletes or other participants in the Olympic Games, except for the identification – as defined in paragraph 8 below – of the manufacturer of the article or equipment concerned, provided that such identification shall not be marked conspicuously for advertising purposes.
"No writings of any kind to promote the country is allowed," designer Ron Slater told InGoal in an email. "A sort of 'our country is better than your country' kind of thing that the IOC frowns upon. Her name had to come off because they see it as self promotion. They wanted everything to be team based. … Our original idea was 'land of the free, home of the brave,' and that would have had to have been removed as well."
In 2010, U.S. goalies Ryan Miller and Jonathan Quick had to alter their masks. Miller had to remove the words, "Miller Time," while Quick had to lose "Support Our Troops."
Here's Vetter's old mask:
Here is the new mask: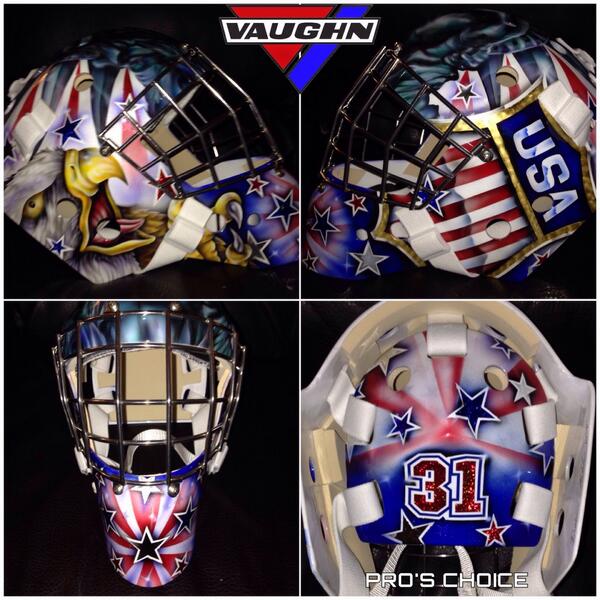 For more on this story, please visit NBCSports.com.