Matt Moore has been a slow starter through much of his professional career but this year he blazed through April and May with a record of 8-0 with a 2.18 ERA allowing 15 earned runs in 62 innings and held the opposition to a .178 batting average. In contrast, in April and May of  2012 he went 1-5 with a 4.76 ERA and the opposition hit .253 against him.
Thus far in June Moore season has gone into reverse. After his  hot start he has struggled through  3 starts  working only 12.1 innings allowing 20 runs/19 earned and the opposition is hitting .448 against him. One of his biggest flaws over his last 3 outings has been his lack of control walking 11 batters while only striking out 11.
What has happened? The simple answer is that Moore finds himself searching for the consistent release point necessary to command the strike zone.
The ability to consistently repeat a delivery is one of the most important aspects of pitching. Former Chicago Cubs farmhand turned coach Steve Ellis says:
When it comes to baseball pitching mechanics, I teach one thing above all else: Not every pitcher has to pitch the exact same way to be successful. But the biggest lesson is that you need to be able to consistently repeat your pitching delivery while staying injury free. – Pitching Mechanics
After his disappointing outing Friday night Rays Manager Joe Maddon discussed Moore's inability to repeat his mechanics saying he didn't have a strong opinion but said
"It's just about repetition of delivery, being able to repeat that. I believe it's going to come; I'm not overly worried about it. I don't know exactly when  it's going to be consistent but this guy is going to be a very, very good major league pitcher. It's a little bit frustrating to watch that right  now."  
Former major league pitcher and current Rays television announcer noted Moore's struggles immediately after a 4-pitch walk to Royals center fielder Lorenzo Cain saying:
'There's just no consistency to the finish of Matt Moore's delivery, therefore; there's no consistency to the command of his pitches.'
What did Brian Anderson see?
Here is the first pitch to Lorenzo Cain and as we can see Matt Moore's left leg never finishes the delivery, he just leaves it up in the air. The pitch misses down and in for ball one.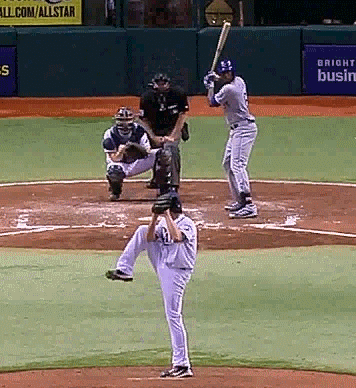 On the second pitch his left left leg comes around and parallel to the ground and he finishes the delivery landing on the ball of his foot The pitch is high and outside for ball  two.
On the 3rd pitch his left leg never gets parallel to the ground and his leg just sort of falls to the ground. The pitch missed low and inside for ball three.
On the fourth pitch his left leg was parallel to the ground but his foot landed with a toe tap as opposed to the flat ball of the foot as he normally does. The pitch missed high and outside for ball four.

For Matt Moore to be successful he is going to have to work with pitching coach Jim Hickey both in the film room and in his bullpen session to locate the key points in his delivery and find a way to repeat them. The mechanics issue seen in his delivery are probably the culprit for his missing fastball velocity that averaged 94.1 mph last year but and is down to 92.3 this season.