Evan Longoria Looks To Rewrite Rays Record Book In 2014
After an injury plagued 2012 Evan Longoria returned to play in 160 games in 2013.  Once again took his place as the big bat in the middle of the Rays lineup clubbing a team leading 32 home runs as well as leading the club in RBI (88), doubles (38), slugging percentage (.498), and runs scored (92).
He'll enter 2014 with several club record within reach. According to the Rays Media Notes his 162 HR are just one shy of Carlos Pena's club mark, his 544 RBI are just 48 shy of Carl Crawford's mark (592), his 200 doubles are 15 shy of Crawford's (215), and his 373 extra-base hits  are 51 shy of Crawford's (424).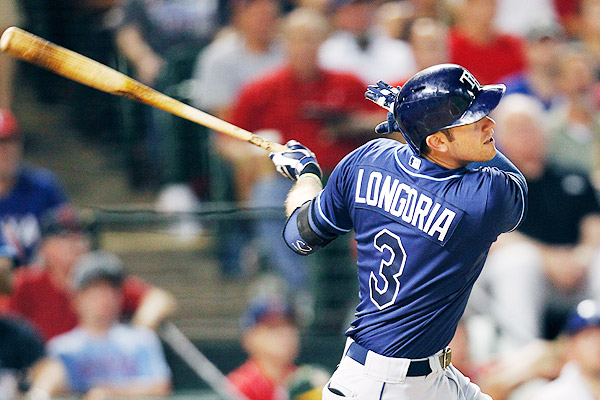 2013 Recap:
Played in a career high 160 games and posted a triple slash line of .269/.343/.498 with a wOBA of .360 and a wRC+ of 133. Fangraphs.com credited him with 6.8 wins above replacement (fWAR) which tied him for 4th place with the Orioles Chris Davis trailing only Mike Trout (10.4), Josh Donaldson (7.7), and Miguel Cabrera (7.6).
Once again was solid with the glove ranking second in fielding percentage (.972) behind Manny Machado. He also only trailed Machado in zone rating Ultimate Zone Rating (UZR/15o) with a 16.2 grade. His outstanding defensive season included a career long 42 game errorless streak from May 21st to July 21st.
Longoria's 74 extra base hits were third in the American League behind only the Baltimore Orioles Chris Davis (96) and Los Angeles Angels Mike Trout (75).
2014 Projections:
There are several mathematical projection models and several have including Pecota, ZiPs, Oliver, & Steamer are provided in the table below. Fangraphs sabermetric library goes into more detail on the different systems (LINK).
Pecota was developed by Nat Silver and is released via Baseball Prospectus and is an acronym for Player Empirical Comparison and Optimization Test Algorithm. 
Oliver was created by Brian Cartwright and is available at The Hardball Times. It's a comparatively simple projection system – using weighted averages of the past three seasons of data, and adjusting for aging and regression
ZiPS was created by Dan Szymborski and is available at the Baseball Think Factory. The ZiPS projections uses weighted averages of four years of data (three if a player is very old or very young).
Steamer projections were created by Jared Cross, Dash Davidson, and Peter Rosenbloom and are available at Steamerprojections.com.
Once again I would expect Longoria to have a very solid campaign with the bat and the glove. Although he played in 160 games last season he certainly wasn't healthy throughout the campaign as he battled a foot ailment that hampered him on and off in mid-season.
The foot issue flared up near the end of June and affected him greatly in July resulting in a dismal .194/.288/.347 triple slash line and he struck out 37 times in 111 plate appearances.
Last 3 Years:
Many of the projection models use the data from the past three seasons in their forecast.
Splits:
Many players are better in one role or another. When a player has a significant gap against either right handed pitchers or left handed pitchers he usually will find himself in a platoon role.
Personal Notes:
He became a father on February 2oth when his girlfriend Jaime Edmonson welcomed Elle Leona into the world weighing in at 4.1 ounces.
He purchased a home for $1.5M in St. Petersburg on one of the man-made fingers of Venetian Isles, the upscale enclave linked by bridge to Shore Acres.
Along with three other investors opened Ducky's Sports Lounge on Kennedy Boulevard, east of Howard Avenue. For more info visit duckystampa.com or call (813) 254-6160.
In mid-December he and Jaime got engaged and announced on Twittter with a picture of Baby Elle holding up a sign which read, "My Mom & Dad Are Getting Married." The wedding is planned for 2016 as they plan on expanding teir family prior to tying the knot.
Twitter account: @Evan3Longoria 
Video:
Longoria Blasts Walk-Off Homer Vs Padres
Longoria Two Homers Vs Yankees On June 20th.
Longoria Two Homers Vs Yankees On September 25th
Longoria Delivers 3-Hits Including A HR In Game 163