- - http://www.sportstalkflorida.com -
Lightning Name Steven Stamkos Captain
Posted By Sports Talk Florida On March 6, 2014 @ 7:48 PM In Florida News,main feature,NHL | No Comments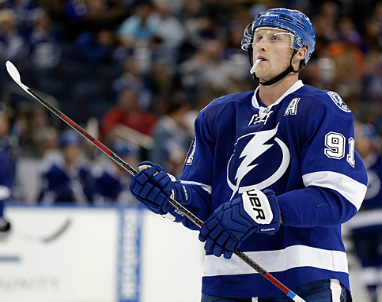 [1]
TAMPA BAY –
 The Tampa Bay Lightning have named Steven Stamkos the 10
th
 captain in franchise history today, the team unveiled prior to their game versus the Buffalo Sabres.
"Steven Stamkos was destined to be the leader of our team," head coach Jon Cooper said.  "The fact that it's happening now just puts us one step closer to achieving our ultimate goal and that is trying to win the Stanley Cup."
Stamkos, 24, has played his entire career with the Lightning since being drafted first overall in the 2008 NHL Entry Draft.  Since then Stamkos has skated in 390 games with Tampa Bay, amassing 222 goals and 409 points.  In just under five seasons with the Lightning, Stamkos already ranks third all-time on the franchise lists for goals, power-play goals and game-winning goals.  He is fourth all-time for points and is tied for sixth for assists. 
The Markham, Ontario native is a two-time Maurice "Rocket" Richard Trophy-winner as the NHL's scoring champion, sharing the trophy with Pittsburgh's Sidney Crosby in 2010 and winning it outright with a 60-goal season in 2012. Since the 2009-10 campaign no NHL player has scored more goals than Stamkos' 199 (Ovechkin – 196). He made his NHL debut on October 4, 2008 against the New York Rangers and scored his first NHL goal on October 30, 2008 against the Sabres, who he faces tonight.  Stamkos has been selected to play in the NHL All-Star Game on two occasions, representing Tampa Bay in 2011 and 2012, and was also named to the NHL's Second All-Star Team following each of those years.
Stamkos also made his much-awaited return to the line-up tonight after suffering a broken right tibia on November 11 at the TD Garden in Boston.  The injury kept him from playing for Team Canada at the 2014 Winter Olympics in Sochi, Russia, despite being selected for the team.  He has represented his home nation at the IIHF World Championships in 2013, 2010 and 2009.  Stamkos also played in the 2008 IIHF World Junior Championships. 
In addition to Stamkos being named captain, the team also announced that defenseman Eric Brewer will serve as a full-time alternate captain, filling Stamkos' previous position.  Defenseman Matt Carle and forward Nate Thompson will continue to share alternate duties, but will change from earlier this season with Carle wearing the "A" at home and Thompson wearing it on the road.
Lightning All-Time Captain History
Steven Stamkos                        2013-14 – present
Martin St. Louis                         2013-14
Vincent Lecavalier                     2008-09 – 2012-13
Tim Taylor                                 2006-07 – 2007-08
Dave Andreychuk                      2002-03 – 2005-06
Vincent Lecavalier                     1999-00 – 2000-01
Chris Gratton                             1999-00
Bill Houlder                               1999-00
Rob Zamuner                            1998-99
Mikael Renberg                         1997-98
Paul Ysebaert                           1995-96 – 1997- 98
None                                        1992-93 – 1994- 95
Source: Tampa Bay Lightning Media
Lightning Name Steven Stamkos Captain
by
Sports Talk Florida
---
Article printed from : http://www.sportstalkflorida.com
URL to article: http://www.sportstalkflorida.com/lightning-name-stamkos-10th-captain-in-franchise-history/
URLs in this post:
[1] Image: http://www.sportstalkflorida.com/wp-content/uploads/2014/02/Steven-Stamkos.jpg
Click here to print.
Copyright © 2011 ESPN Florida. All rights reserved.