Jameis Winston Reinstated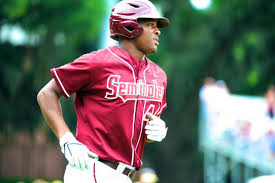 FSU's head baseball coach Mike Martin announced earlier today that Jamies Winston has been reinstated to the team. Winston was suspended last week after being issued a citation for failing to pay for his groceries at Publix. Winston?was cited after he walked out of the store with over $32 worth of crab legs and crawfish.
Winston was forced to complete 20 hours of community service and he was suspended from the baseball team until the hours were completed. According to Martin, Winston finished his hours early Sunday afternoon and immediately came to the baseball stadium. Winston was seen in the dugout with his teammates beginning in the second inning. He dressed out for the game, but did not play. The Seminoles won Sunday evening 7-1 to complete their sweep over the Minnesota Gophers. The team will travel to Stetson Tuesday before heading to Chapel Hill for a three-game weekend series against North Carolina.
By: Brandon O'Connor