Gill Byrd Talks Challenges of Today's NFL and His Coaching Outlook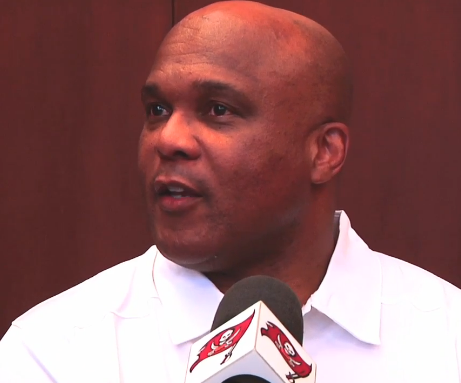 Its a different era than when he played, but Tampa Bay Buccaneers new cornerbacks coach Gill Byrd welcomes the challenge of helping mold a new type of defensive player, one to combat todays high-powered offenses that are more spread out, up-tempo and posting numbers like never before.
Its very difficult to play corner nowadaysbecause everything is based on a reaction, said Byrd, a four-time All-Pro for the San Diego Chargers from 1983 to 1992. You have to go back first before you even think about going forwardthe way offenses are spreading the ball around, the no-huddle offenses, all of those things play a part."
This past season, Peyton Manning broke the single season NFL record with 5,477 yards passing yards. The Broncos ran an up-tempo, no huddle offense with three and even four receiver sets, spreading defenses out and wearing them down at a dizzying pace, averaging a league-high 72.25 plays per game.
Its the same type of up-tempo style that helped Tom Brady and the Patriots surge past the Broncos the year before, running 89 plays in a 31-21 beating. That season New England averaged 74.44 plays from scrimmage.
Which raises the question. Is it harder to play cornerback now than it was years ago?
Byrd responded, "Im saying yes from the standpoint of how offenses are spreading you out. We had rest. It was the old three yards and a cloud of dust. On third down they came out with three wide receivers. They didnt have no-huddle all through the game, Byrd recalled. Thats what makes it harder, because in theory, youre gonna get tired a lot faster if you have to be spread out and you dont have the same amount of rest. It goes hand in hand.
Its worth mentioning Chip Kellys offense, which made its NFL debut this year featuring the same up-tempo style that helped his Oregon Ducks rise to national prominence in the college ranks. Whether it was Nick Foles or Michael Vick or Matt Barkley at the helm, the ball was snapped once every 22.35 seconds, making things difficult on any cornerback engaged in a 40-yard foot race with DeSean Jackson.
Thats why Im saying conditioning is probably at more of a premium today than it was back in the day, Byrd said, makingit clear that his new players wont everget a pass from him, even in the changing landscape of a league that continues to favor offenses and put defenses at a disadvantage.
There [are] no excuses and dont give any explanations on why you cant pursue. Oh Im tired or theyre going no-huddle.' No...no excuses, no explanations. Weve got to get the job done. Its a hard job but you have to do it.
To combat these potent passing attacks, defenses are also relying more heavily on nickel personnel with the third cornerback becoming a starting role and a de-emphasis on the strong side linebacker position.
Thats an important position. Its not like back in the day, where it was nothing much, only on third down, maybe 12 to 15 times a game a nickel would come onto the field. Now its 55-60 percent of the time, which is a big difference.
Byrd feels he has those tools to work with in Tampa, his new home for whats been about a month. He likes what he sees in Darrelle Revis and Johnthan Banks and Leonard Johnson, particularly the fact that they dont shy away from contact. He also likes the fact that this group tied for second in the league last year in takeaways (31), with 21 interceptions and 10 fumble recoveries.
I think the numbers speak for themselves. I think the [previous] coaching staff did an excellent job of stressing that, the players bought into it, and we will continue to do that. We just want to keep improving on those numbers, and not be satisfied.
Byrd knows all about the power of a takeaway. The Chargers franchise leader in interceptions had a few game-changing ones back in the day, including nine career picks against John Elway, more than any other player. In his final season in 1992, he had three against him.
The Bucs have a game-changer on this roster in Revis, still regarded as one of the premier corners in the league after undergoing knee surgery last year. Hes expected to play a crucial role in Coach Smiths Tampa 2 defense, even if its not playing an extensive amount of the man-press to which he is known for.
I think a players talent is wasted when hes not around the ball and not able to make plays on the ball. And I believe as coaches, that [is] our job, to put them in positions to make plays on the ball. The most important thing is getting to the ball, so whether thats man, zone, it doesnt matter.
What does matter to Byrd most is getting through to his players so he can coach the way he wanted to be coached. I wanted a coach that would tell me the whys, that encouraged me to ask questions and, Why are we doing this? and would really go out of his way to explain things to me.
He believes in four key values when it comes to teaching.
You have to make, you have to lead, you have to restore, and you have to guide. At any point in time, I have to make a player do something, I may have to lead a player doing something, I may try to restore a tradition of whats been done here defensively, and I have to stand side-by-side with them and guide them.
That teaching goes beyond football. It certainly helps that as a father to two sons around the same age as his players Jairus, 27, and a Pro Bowl defensive back for the Buffalo Bills, and Gill Jr., 29, who played DB at New Mexico State he understands what many of them are going through off the field.
And so he focuses on developing his players as people first before taking a step forward and getting to the Xs and the Os, and ways to combat high-powered offenses led by legendary quarterbacks.
Once you do that, and you develop the man, the player will come, because if, as a man, youre responsible, youre disciplined, you have accountability, then as a player, youll be responsible, be disciplined and have accountability.