Gators Continue Rise in Rankings as They Prepare for LSU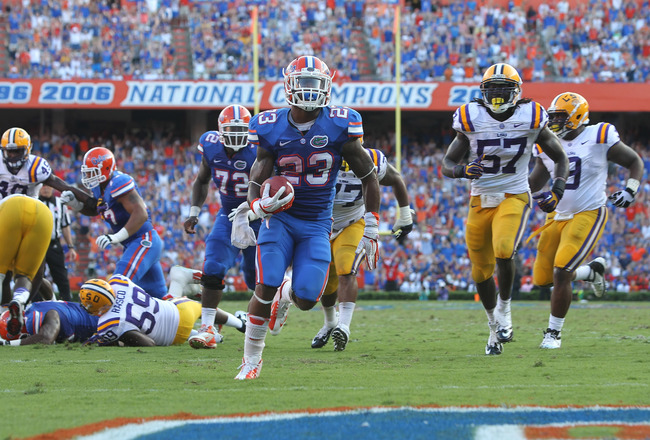 The Gators are now in position for their first tough SEC match-up. It will be the No. 17 Florida Gators versus the No. 10 LSU Tigers, according to the latest Associated Press Top 25 Poll.
The Gators took care of business on Saturday night, disposing of the Arkansas Razorbacks 30-10. Florida WR Solomon Patton picked up six catches for 124 yards and two touchdowns. The win earned the Gators a one-spot boost in the poll.
LSU bounced back from their September 28 loss to Georgia with a dominant 59-26 road victory over Mississippi State on Saturday. Both teams will prepare for their meeting in Baton Rouge at 3:30 p.m. ET this week.
In other rankings news, Florida State was the biggest mover in the top ten, jumping two spots to No. 6. The top five held pat with No. 1 Alabama, No. 2 Oregon, No. 3 Clemson, No. 4 Ohio State and No. 5 Stanford.
Here?s a look at the entire top 25:
1.?Alabama?(5-0) --?55 first-place votes
2.?Oregon?(5-0) --?5 first-place votes
3.?Clemson?(5-0)
4. Ohio State (6-0)
5. Stanford (5-0)
6.?Florida State?(5-0)
7. Georgia (4-1)
8.?Louisville?(5-0)
9. Texas A&M (4-1)
10.?LSU?(5-1)
11.?UCLA?(4-0)
12.?Oklahoma?(5-0)
13. Miami (5-0)
14.?South Carolina?(4-1)
15.?Baylor?(4-0)
16. Washington (4-1)
17. Florida (4-1)
18.?Michigan?(5-0)
19. Northwestern (4-1)
20.?Texas Tech?(5-0)
21.?Fresno State?(5-0)
22.?Oklahoma State?(4-1)
23.?Northern Illinois
24.?Virginia Tech?(5-1)
25. Missouri (5-0)
How do you feel about this week's rankings?