Fantasy Hoops: Russell Westbrook Will Be Back Soon
by: Daniel Dobish
We look at the most important injuries for Fantasy owners, analyzing not only the injured player and when hell be back, but who benefits from his absence.
Players with nagging injuries have had the benefit of the All-Star break to rest for six or seven full days, if need be. Its a great time for players, who get a much-needed rest, and for Fantasy owners who might have a totally different looking team coming out of the break with healthy players returning. Some guys with long-term injuries also key on the break as a goal for returning.
Boston Celtics PF/CJared Sullinger(finger) is nursing a right index finger injury, but theBoston Heraldreports he avoided heavy traffic to protect himself as much as possible. In fact, nine of his 11 field goal attempts were from behind the 3-point arc. PGRajon Rondo(knee) has gotten much-needed rest for his surgically repaired knee during the break, but its uncertain if that means he will play both ends of a back-to-back situation coming up on the teams west-coast road swing Friday at L.A. Lakers and Saturday at Sacramento. Fantasy owners beware. GAvery Bradley(ankle) could miss time after the break, head coach Brad Stevens toldThe Boston Globe. If you normally depend upon Bradley for Fantasy purposes, keep him reserved to be on the safe side.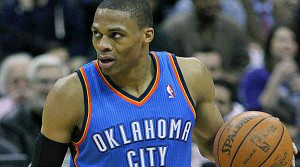 The Denver Postis reporting that a decision will come by March 1 on whether CJaVale McGee(leg) will require surgery for the stress fracture in his tibia. He has been sidelined since early November, and while he has started to do lower-body work on the elliptical machine, there is still uncertainty if hell be able to play. Fantasy owners should hang onto him, but if he goes for surgery he is obviously no longer worth hanging onto. PF/CJ.J. Hicksonand CTimofey Mozgovremain the top dogs in the frontcourt for the Nuggs.
Los Angeles Lakers PF/CPau Gasol(groin) told theLos Angeles Timesthat he could return as soon as Wednesday, the first game for the team after the break. While thats great news, there are a few notes of concern. One, he might be a bit rusty heading into that game, and two, he could very well be without another team by that date. The Feb. 20 trade deadline is approaching, and it is no secret the Lakers have been shopping Gasol, as this season has been lost in L.A. Fantasy owners will want to play wait-and-see with Gasol in the first scoring period after the break.
Memphis Grizzlies CMarc Gasol(knee) hit the break with a worrisome injury for Fantasy owners, as he hurt his left knee Wednesday. TheMemphis Commercial Appealreports an MRI on his left knee was clean, and revealed no structural damage. He will be re-evaluated by team doctors Monday. As a rule of thumb, it is a good idea to keep a player who is a question mark reserved in Fantasy leagues, but check back on the reports Monday. If he gets the green light from doctors, there is no reason to have him languishing on your bench in the new week. PGMike Conley Jr.(ankle) was nearing a return before the break, but the team took advantage of the extra week of rest to get Conley right. PGNick Calatheshas been outstanding in Conleys stead, but it appears his Fantasy appeal will take a hit with Conley soon to return. Calathes is still worth hanging onto in the event of an aggravation, but Conley is the show in Memphis.
Miami Heat SGDwyane Wade(foot) did not play Wednesday before the All-Star break due to a sore foot, but he played in the All-Star game. Fantasy owners probably wouldve preferred to see the Mayor of Wade County sit and rest, rather than risk aggravating the injury in an exhibition. The good news is that Miami does not have any back-to-back situations, so he looks fine for the post-break lineup.
Milwaukee Bucks CLarry Sanders(eye) suffered a fractured orbital bone right before the break, and the injury required surgery. He will be sidelined at least six weeks before it is safe to risk contact with the area. Sanders can probably be dropped in all Fantasy formats if you need the roster spot, but if you have a deep bench and plenty of flexibility, feel free to hang onto him. PFJohn Hensonand CZaza Pachuliaare strong additions for Fantasy frontcourts.
Oklahoma City Thunder PGRussell Westbrook(knee) will have his knee re-evaluated Tuesday, according toYahoo! Sports. Thats good news, as there is a strong possibility he is able to return for Thursdays game against the Miami Heat. The team announced Dec. 27 that Westbrook had right knee surgery for the second time since late October, and the projections were that he would be out until after the All-Star break. It appears those projections were right on target. Fantasy owners will want to keep him reserved until he can officially return and prove his health in at least one or two full games. Owners of PGReggie Jacksonare not as thrilled with Westbrooks return, and SGJeremy Lambare even less excited. Both Jackson and Lamb are sure to see heavy workload decreases with Westbrook gobbling up starters minutes and leaving scraps for the others.
Phoenix Suns PGEric Bledsoe(knee) continues to progress, according toThe Arizona Republic, and while there is no official timetable for his return, it is believed that he will not be sidelined long after the All-Star break. Hes making good progress on his rehab, Suns President of Basketball Operations Lon Babby said. Hes progressing as expected. Were still optimistic that hell return some time after the All-Star break. Bledsoe has started some spot shooting, and lift on the floor, so there is light at the end of the tunnel for Fantasy owners.