ELOOnline : College Baseball Season Preview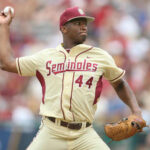 On this edition of ELOOnline, Eric Lopez previews the 2014 College Baseball Season which gets underway this week with Brian Foley of College Baseball Daily.com.
Why You Should Listen?: ?Eric Lopez talked to Brian Foley on the Insiders Show on Sunday?about the upcoming ?College Baseball season. Who Is there a clear-cut?favorite coming into the season???Who our the National Title Contenders? ?What are some of the National storylines of the season? Lopez talks to Foley about the ?the outlook for the SEC, Pac 12, ACC, ?and AAC. Foley shares his thoughts on the Florida Gators , Florida State Seminoles and Jameis Winston. Foley also talks about some of the players to be on the lookout for this season across the country and favorites to win the Golden Spikes Award which goes to the best College Baseball player in the country.
ELOOnline : College Baseball Season Preview with Brian Foley?
Sportstalk 1080 Insiders Show from Sunday 2/9/14 ?which ?SportstalkFlorida.com 's Magic Insider Mary Stevens talked about the Magic win over Thunder, preview Pacers game as well as interview with Foley and ?UCF Head Baseball Coach Terry Rooney.
Listen to Interviews with College Baseball Coaches Across the State :
UCF Baseball Head Coach Terry Rooney
Stetson Baseball Head Coach Pete Dunn?
Florida State Asst Baseball Coach Mike Martin Jr
Miami Hurricanes Head Coach Jim Morris?
USF Head Baseball Coach Lelo Prado?
Get some Giant Freshly Dipped Strawberries from Shari's Berries-Starting at $ 19.99! Over 40% ?Savings! Or double the Berries for just $ 10 more! You just need ?code "Eric Lopez"
Go to Berries.com, click on the microphone, and type in " Eric Lopez"
Eric Lopez host ?ELOOnline??Podcast ?which airs on?Sportstalkflorida.com. ?Eric Lopez also host 1080am Insiders Show that ?airs Sundays from 10-11am?eastern on Sportstalk?1080 the team in Orlando. Lopez also ?fills in on Tuck and O'Neill on Sportstalk?1080 the Team Orlando.? Eric Lopez is the radio? voice of UCF Knights Softball and begins his 8th season this weekend on UCFKnights.com