How are the Florida Gators coping with the inordinate amount of injuries this season to players in key roles?
The same way they always do.
As the Gators head to Columbia, Mo., this weekend, head coach Will Muschamp continues to preach the importance of the "next guy" stepping up.
"Man down, man up," he says.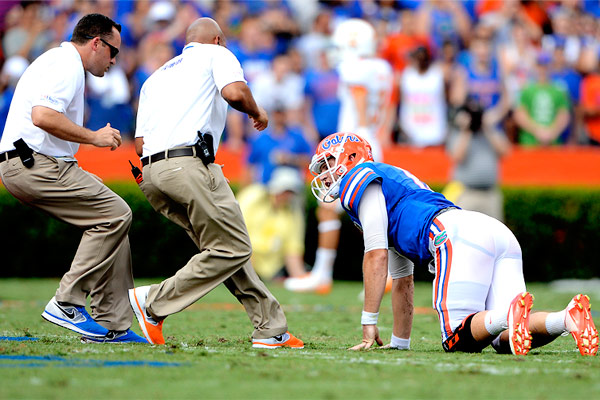 The problem with his long-time mantra is that the Gators have faced more severe injuries than ever before — at least during Muschamp's tenure in Gainesville. He even admitted as much at a press conference earlier this week.
"It's unfortunate," he said. "More than anything, I hate it for the young men. They put a lot of time and effort into playing this game. That's what hurts the most, to see guys go through the struggle and having to make that phone call and tell them what's going on or having to walk them in the training room to tell them what's happening."
For context, here's a list of the Gators' season-ending injuries so far in 2013:
LB Matt Rolin (Torn ACL)
WR Andre Debose (Torn ACL)
RT Chaz Green (Torn Labrum)
QB Jeff Driskel (Broken Leg)
DT Dominique Easley (Torn ACL and Meniscus)
DB Nick Washington (Shoulder)
RB Matt Jones (Torn Meniscus)
For those of you keeping score at home, four of those guys were starters for Florida (Green, Driskel, Easley and Jones), and one (Debose) had a shot to start. For a team that so desperately needed offense in last week's 17-6 loss to LSU, looking at that list has to hurt.
And not only have they lost starters, the Gators have lost starters at crucial positions on the field. They have lost their starting quarterback, starting running back, starting right tackle and a starting defensive tackle.
And earlier this week, current starting quarterback Tyler Murphy popped up in the news due to a shoulder injury he suffered against LSU. It's been confirmed now that he's playing on Saturday, but seriously, another injury? How could the Gators possibly of dealt with another key injury? Every team has to go through them, but they have had a bit of a rougher go at it than others.
Speaking of injuries, Missouri's dual-threat quarterback James Franklin will miss three to five weeks due to a separated shoulder he suffered during his team's victory against Georgia last week. The surprise Tigers (6-0) will have to play without Franklin for the first time this season.
His back-up? Redshirt freshman Maty Mauk.
A couple of teams with serious injuries to some key players, battling it out for the top spot in the SEC East. This one is gonna be ugly.
Prediction
This game opened as a pick 'em, but now the Gators are three-point favorites on the road. Florida's offense was abysmal against LSU last week, and this Tiger team looks like it might be for real. Without Franklin, though, they will struggle to score. The problem is, the Gators will too.
I think this is going to be a really ugly one, and I think Missouri will cover but not quite pull it out. I feel like Muschamp will have his team prepared to bounce back after last week's loss. You can't let Tigers take you down two weeks in a row.
Game kicks off at 12:21 p.m. ET.
Florida 13 Missouri 10
(Record Against the Spread 3-3)
What does everybody else think? Which SEC East team will pull it out this week?