It all began with Connecticut and how fitting that it would end with them four months later. The UConn Huskies defeated the Florida Gators 63-53 on Saturday night, sending them to the championship game. The last time Connecticut played for a national title was back in 2011 against Butler.
The Gators last defeat came against the Huskies back on Dec.2. Since then in that four month span they went on to win 30 consecutive games including a perfect 18-0 conference record. UF won the SEC regular season as well as tournament championship and received the number one overall seed in the NCAA tournament.
In the Final Four matchup, Florida had a difficult time finding the basket. Only two players scored in double figures with senior center Patric Young leading the team with a season high 19 points.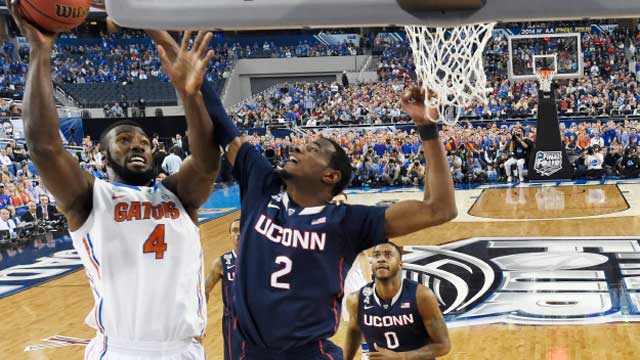 UF also had one of their worst shooting nights of the season, going 38 percent from the field and ten percent from beyond the arc. Comparatively, they managed to only dish out three assists to the Huskies 12.
Senior forward Casey Prather went 6 of 10 shooting and scored 15 points. Outside of Young and Prather, the remaining starters went 3 of 14. Senior guard Scottie Wilbekin was reported as battling sore knees. In 34 minutes, the SEC Player of the Year scored only four points on 22 percent shooting, recording one assist and turning the ball over three times.
After dealing with an early first half scare, the Huskies found their offense. Four players scored in double digits with junior forward DeAndre Daniels amassing 20. As a team Connecticut shot 55 percent from the floor and 47 from the three point line.
While Florida's seniors weren't able to win a national championship, they did leave their mark on the program. Their 36 wins on the season set a school record in addition to their 30 game win streak.
They won 32 straight at home and their 120 wins is more than any other player that has come through the University. The Gators also became the first team in NCAA history to go undefeated in a major conference.