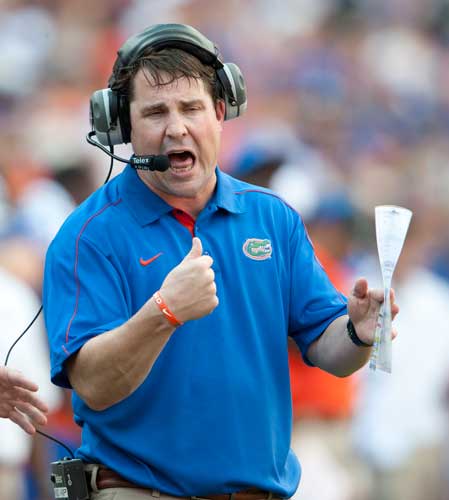 Yeah, last year was bad. Trust me, Gator fans remember.
Florida went 4-8, the fewest wins in a season for the program since 1979, when the Gators went 0-10-1 in coach Charley Pell's first season.
Under Pell, though, things quickly turned around. From 1980 to his firing in 1984, the team was 33-16-2, starting a streak of seasons with a .500 or better winning percentage that ran for 33 years.
That streak came to an end under coach Will Muschamp last fall, punctuated by a 37-7 beatdown at the hands of state rival Florida State.
Muschamp is certainly on the hot seat entering his fourth season as coach of the Gators, and fans are getting restless in Gainesville.
Will he be able to turn things around as quickly as Pell did more than 30 years ago?* He certainly thinks so.
*Without the recruiting scandal, obviously…
At the Southeastern Conference Media Day on Monday, Muschamp had some bold, confident things to say about his football team.
First, the obligatory: "[Last season] falls on my shoulders. There will be a lot of chatter about hot seat business. That's part of it. The way you combat that is having a winning football team and winning football games, which is what we're going to do."
Alright, that's easy enough to say. Calm, yet confident.
"This is probably the most complete team we've had since I've been at the University of Florida, in all three phases." 
Oh boy. That's a bold thing to say after a 4-8 season that included a loss to an FCS team.
While Muschamp has emphasized that he never feared losing his job last winter, he must know that this season is make or break for him. If things go badly again, he's almost definitely gone.
It's a good thing to be confident in your team, but ultimately, words won't matter. If the Gators don't get it done on the field this season, there's going to be a job opening up in Gainesville pretty soon. It's time for Muschamp and the Gators to get to work.
Other notes from Media Day:
Practice starts for the Gators on Aug. 4. Several practices are expected to be open to the public.
Muschamp said when looking back at the offense in 2012, he found things to be much more explosive when quarterback Jeff Driskel was in the shotgun.
He is also seemingly a lot more confident in his offensive line this season, as well as his running backs and receivers, calling them "deep and talented."
How do you feel about Will Muschamp's confident statements from Media Day? Do you think he will be the coach of the Gators a year from now? Leave your thoughts in the comments below or tweet me @GainesTaylor.