Gainesville has suffered through a long, painful fall for Florida Gators football.
Fall, meaning either the geographical season in which football season takes place or the tumultuous plunge of the Gator football program to the bottom of the Southeastern Conference.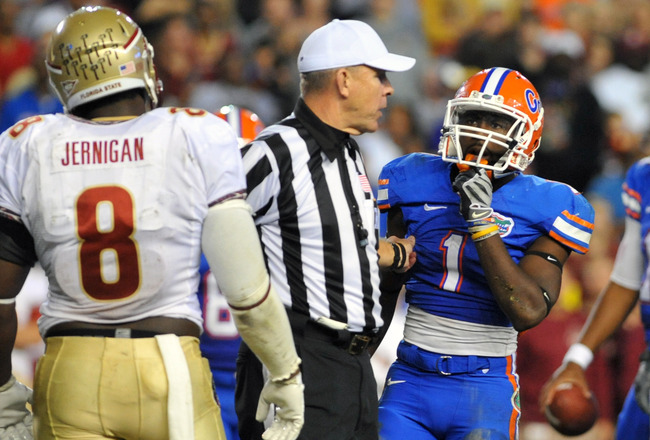 But it can all be wiped away with one victory.
You know what I'm talking about. If the Gators somehow beat No. 2 Florida State on Saturday, everything will be forgotten. Those who desperately want coach Will Muschamp fired would be silenced. All of the suffering during Florida's six-game losing streak would be worth it. Every injured Gator would be avenged. The stench of the Gators' first losing season since 1979 would swiftly wash away.
If Florida, suffering through one of its worst seasons ever, could  beat Florida State, enjoying arguably its best season ever, the feeling afterwards is something Gators fans would not quickly relinquish.
The good news for Florida is they have absolutely nothing to lose. They can open the playbook to the fullest extent, take every risk possible and leave everything on the field. There is no bowl game coming, no SEC Championship, nothing. Many Gators have called this game their bowl game, and it is. There is nothing else after Saturday.
And people with nothing to lose are scary. Because you have no idea what they will do when there is nothing holding them back. At the very least, we'll know for sure how good (or bad) this Gator team can be. Because Saturday will feature coaches fighting for their jobs and players fighting for their pride.
And there's always the chance Florida State could overlook the Gators. They are currently waltzing into the national championship game, and it is possible they could see the Gators' record, watch tape of them blocking each other and not take them seriously. There's a reason they play the games, as they say.
Will it happen? I don't know, probably not. But that's no reason not to be excited for Saturday's game. Because we never know for sure what will happen next.
Prediction
Wow! The Seminoles are 28-point favorites! That is a very large point spread.
I don't want to jinx the Gators by picking them to outright win, but I'll say this: If Tyler Murphy starts at quarterback for the Gators, this game will be closer than it appears.
I'll take the Gators to cover! Enjoy the game everybody.
Florida State 38 Florida 17
What do you think? Do the Gators have a shot on Saturday?