UPDATE: The University has denied that defensive tackle Jay-nard Bostwick was suspended, and he is expected to be on the sidelines for Saturday's game.
When most Gator fans woke up on Friday morning, they thought that starting middle linebacker Antonio Morrison was the only one who would be missing Saturday's season opener against Toledo due to a suspension.
However, a Palm Beach Post report on Friday found that five more players will be absent from No. 10 Florida's first 2013 game in the Swamp.
Cornerback Loucheiz Purifoy, backup receiver Latroy Pittman, defensive lineman Darious Cummings, defensive tackle Jay-nard Bostwick and offensive lineman Quinteze Williams were all suspended for Saturday's game, according to the report.
A source told The Post that the suspensions were due to disciplinary issues and that Purifoy and Pittman will sit because they failed drug tests.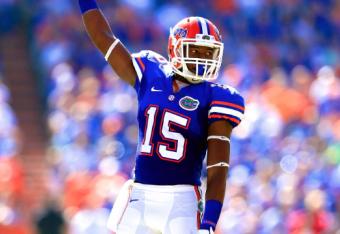 Purifoy had a misdemeanor drug possession charge dropped earlier this year after a small amount of marijuana was discovered in a car that he was riding in the back seat of when it was pulled over for a right-of-way violation in February.
The Gators better hope that a trend isn't starting with Purifoy. Judgment, however, will have to be withheld until more information is released by the school.
As 23.5-point favorites against Toledo on Saturday, Florida should be alright without the suspended players, but the loss will definitely make things more interesting.
Granted, the coaching staff may have been game-planning all week knowing these suspensions would be handed down. We'll just have to see how things play out on Saturday.
The game kicks off at 12:21 p.m. ET.