Are the Gators a Final 4 Team?
NBC Sports College Basketballtalk.com's Rob Dauster talked to Tuck and O'Neill about the landscape of College Basketball. Are the Gators a legit Final four contender this season??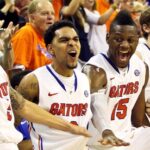 Why you should listen:?Rob Dauster ?talked to Jerry and Mike about the SEC conference, has Kentucky been a disappointment? ?Are the Gators a Final 4 team this year? Dauster compares the Big East conference versus the AAC. ?What has gone wrong for Butler? ?Dauster breaks down if Wichita State ?is better than last year's Wichita State final four team last season.. Dauster also breaks down Syracuse ?as well as Duke and North Carolina. ?Dauster talks about the Big 10 and if they have a National Title Contender?
The Tuck and O'Neill Show comes to you live Monday through Friday 3pm-7pm from the Sports Talk Florida Studios
Talk with us during the show:
1080 Studio Line : 407-482-3776
toll free : 877-380-1080
Chat with us online :
SportstalkFlorida - @SportsTalkFla
Sports Talk 1080 The Team - @1080TheTeam
Mike Tuck - @MikeTuck1080